Northwest Bali Tour is a full day tour package (+/- 8hrs) to enjoy sight seeing beautiful scenery and places of interest in northwest part of Island of Bali.
Places of interest will be visiting during Northwest Bali Tour: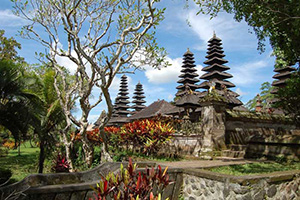 Taman Ayun Bali Temple is often referred to as one of the most beautiful temples on the Island of the Gods. Many local and foreign tourists flock to this place. Moreover, the location of Taman Ayu Temple is not so far from the city of Denpasar. Located about 18 kilometers from the city of Denpasar.

Taman Ayun Temple Bali is an old temple built by King of Mengwi in 1634. According to the book titled Mengwi Country which was written by Henk Schulte Nordholt, this temple had undergone a renovation process in 1750. It was mentioned that the temple was renovated using the architect's power named Hobin Ho.
2. Jatiluwih Rice Terrace
Jatiluwih Village is in Penebel District, north of Tabanan Regency, Bali. From Denpasar, you can drive around 1.5 hours by driving. If from Ngurah Rai International Airport, you can take a 2-hour drive.

Jatiluwih Rice Terrace in Bali is one of the popular tourist attractions among tourists. Not only enjoy the beautiful natural scenery, you will also learn a lot about the culture and daily life of the people. The main attraction of the tourist attraction in Jatiluwih Village is its natural landscape. Its nature is still very beautiful as well as natural attractions that can bewitch anyone.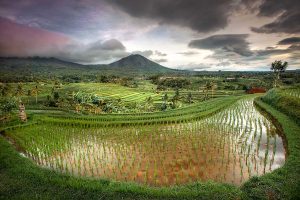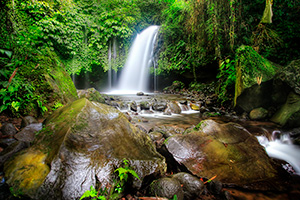 Yeh Ho Waterfall is one of the waterfalls located in the Penebel-Tabanan area not far from the famous Jatiluwih area. To reach the location of the waterfall after arriving at a simple parking area with a small coffee shop, you have to walk through a small footpath and a number of steps. Before finally reaching the waterfall area which is only about 4-5 meters high, you will pass a number of tributaries and small waterfalls with bamboo forests around.

Although hidden, this waterfall in Bali but we can easily find hiding places from Yeh Hoo Waterfall in Gunungsari Umar Umar Banjar, Jatiluwih Village, Tabanan, Bali. Located about 2 hours from Kuta, Denpasar, Bali.
Beratan Lake Temple is a temple complex located on the edge of the western part of Lake Beratan, Bedugul. Located on a plateau, with a height reaching 1,239 meters above sea level. No wonder if here, the visitors will feel the cool and refreshing temperature.

Beratan Lake Temple indeed deserves to be called one of the most beautiful temples on the island of Bali. Not only has an attractive architectural design, this one temple also presents wonderful views that are amazing for its visitors. It is not surprising that this place is not only crowded with those who aim to carry out worship activities. But also many are interested in witnessing the beauty of this place directly.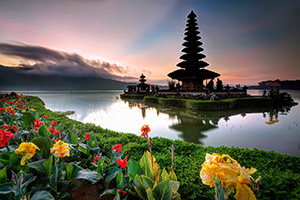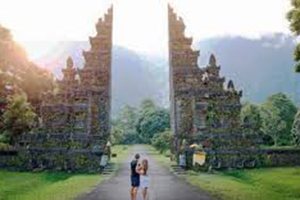 Bali Handara Gate – Bali is one of the popular tourist areas in Indonesia that is recognized as an area with a million charms of beauty. You can visit a variety of amazing attractions there, one of the best is to visit Bali Handara Gate.

Bali Handara Gate or famously known as Bali Handara Gate is one of the attractions in Bali that has been recognized by the world. For those of you who often visit Handara Golf and Resort, make sure you have captured the best moments in this one place. Bali Handara Gate is one of the very Instagramable gates and is so popular among Balinese and surrounding communities.
Tanah Lot Temple is a temple that is above a lump of rock in the middle of the beach. This temple is a place of worship for sea gods, this also makes this temple built in a location very close to the sea. Tourists are not allowed to enter the temple building to maintain the sanctity and sanctity of this place of worship.

Tanah Lot Temple is about 1 hour from the airport or about 45 minutes from Kuta Beach which is another popular tourist spot in Bali. This tourist spot is visited a lot, especially nearing the afternoon because of the famous beautiful sunset.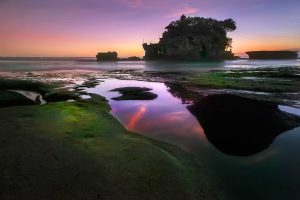 Northwest Bali Tour Price