East Bali Tour is a full day tour package (+/- 8hrs) to enjoy sight seeing beautiful scenery and places of interest in easthern part of Island of Bali.
Places of interest will be visiting during East Bali Tour:
1. Blue Lagoon Snorkeling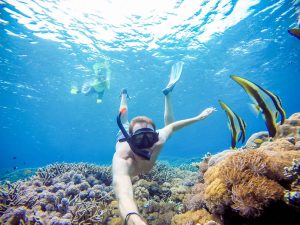 Blue Lagoon Beach is located in Padang Bai Village, Manggis District, Karangasem Regency, on the east side of Bali Island. Blue Lagoon Beach is located to the east of Padang Bai Beach, about 800 meters from Padang Bai Harbor.

The Blue Lagoon beach in Padang Bai is a beach with a very interesting atmosphere to visit. This beach offers a quiet atmosphere from visitors, it will even feel like being on a private beach if you come to this place. One of the hidden attractions but its beauty does not need to be hidden in Bali. What's more, this beach is also a paradise for snorkeling lovers.
Tirta Gangga is a tourist park located in Karangasem, Bali. Before becoming a tourist place in Bali as it is today, this place was once a stopover for a King Karangasem. Tirta Gangga is dominated by 3 main buildings that become its characters, namely Pool, Sculpture, and Gardens.

Tirta Gangga was used as a resting place built by King Karangasem namely Anak Agung Ngurah Anglurah Ketut Karangasem in 1946. The name Tirta Gangga comes from the word "Tirta" which means holy water and "Ganga" taken from the name of the river in India namely Gangga River.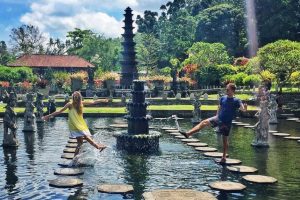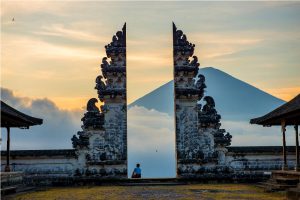 Lempuyang Temple Bali is a religious tourism location and is a sacred area for Hindus on the Island of the Gods. Located in Tista Village, Abang District, Karangasem Regency, Luhur Lempuyangan Temple which is on the top of Bisbis Hill, functioned as a holy place to glorify and worship Ida Sanghyang Widhi Wasa in its manifestation as stana Hyang Gni or Dewa Isawara.

Most tourists come in the dark to capture the moment of the hot lava of Mount Agung glowing in the dark. That moment for some people might be scary. However, some people consider the eruption of Mount Agung as a rare moment with magical scenery.
4. Tenganan Traditional Village
Tenganan Pegringsingan in Manggis Karangasem Bali is one of the tourist attractions in Tenganan Village, Manggis District, Karangasem Regency, Bali, Indonesia. Tourism Tenganan Pegringsingan in Manggis Karangasem Bali is a tourist place that is crowded with tourists on weekdays and holidays. This place is very beautiful and can give a different sensation to our daily activities.

Tenganan is also referred to as a resident of Bali Aga or a native of Bali Island. Very unique and interesting indeed a period of unstoppable modernization, residents of Tenganan village still upholding all the cultural heritage of its predecessor. That's why on in modern times the existence of Tenganan is a unique village storing priceless cultures and arts.