North Bali Tour is a full day tour package (+/- 8hrs) to enjoy sight seeing beautiful scenery and places of interest in northern part of Island of Bali.
Places of interest will be visiting during North Bali Tour: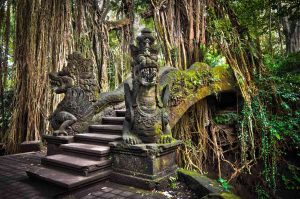 Ubud Monkey Forest is a very popular tourist destination on the island of Bali. Located in Ubud, this one tourist spot has become a location visited by many tourists. Both foreign and domestic tourists, often take the time to come to this place.

Even this place is visited by no less than 10 thousand tourists every month. The visitors come to this place not only because of the presence of monkeys. But also because the Ubud Monkey Forest is known as one of the holy places by Hindu communities in Ubud. The Ubud Monkey Forest is also known as Mandala Wisata Wenara Wana. As the name suggests, this place is a habitat specifically created for the monkeys' dwellings.
Ceking Rice Terrace in Tegalalang Gianyar Bali is one of the tourist attractions in Ceking Village, District Tegalalang, Gianyar Regency, Bali, Indonesia. Ceking Rice Terrace Tourism in Tegalalang Gianyar Bali is a tourist spot that is visited by nay tourists on weekdays and holidays. This place is very beautiful and can give a different sensation to our daily activities.

Ceking Rice Terrace tour in Tegalalang Gianyar Bali has a very interesting beauty to visit. It's a pity if you are in the city of Gianyar not visiting the Ceking Rice Terrace Tourism in Tegalalang Gianyar Bali which has such an unparalleled beauty.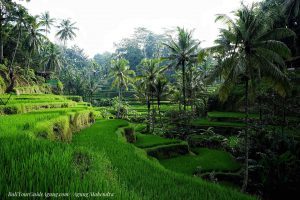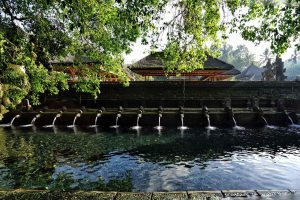 Tirta Empul is one of the ancient temples or temples that still stands firmly in Bali. Founded in 926 AD, the Hindu temple is claimed to be one of the largest and busiest in Indonesia. When viewed from the architecture and reliefs inside, Tirta Empul is said to have been specially built as a form of dedication to Dewa Air Wisnu.

The Pool or commonly called Pertirtaan, indeed becomes one of the main attractions of Tirta Empul Temple when viewed from its religious side. Previously, water sources in this temple were often used by local residents and visitors for drinking, bathing, and other daily activities. However, recently the water quality in Tirta Empul Pool was stated to have decreased and was prohibited to drink.
4. Tea & Coffee Plantation
If you are a coffee lover and are interested in buying Balinese coffee and tea then you should visit this place. But if not, you can skip visiting this place too. This is a small tour to a coffee plantation. The most interesting thing in this tour is how civet coffee is made from animal droppings called mongoose. They will give all coffee and tea to taste and then take you to their shop for purchase. Very beautiful view.

Kopi Luwak itself is a coffee drink that is formulated using selected seeds taken from the rest of the civet droppings or other types of ferret. Luwak coffee beans are very popular among coffee connoisseurs as a type of coffee that has a different taste than ordinary coffee which is certainly better and very delicious. Why is that? Because the civet coffee beans before they are made and processed into drinks are served in a cup of glass first through the process after being eaten and through the digestive tract of the mongoose.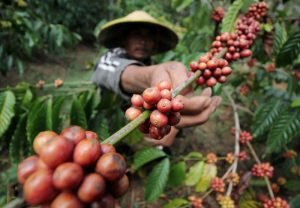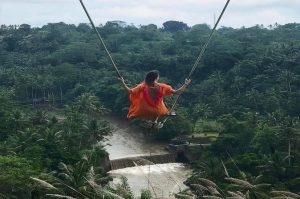 Bali Swing itself offers the main game spots that are extreme and challenging, namely in the form of swings. So this is what underlies the name "Bali Swing" which is a cool tourist attraction. Visitors can feel the incredible sensation by trying the swing game. Not only that, the swing also became a spot of selfies that really hit guys..

The swing in the Balinese swing does look simple because this swing is only tied to a coconut tree. Right below it were ravines and rice fields, while in front of them lay green hills. Adrenaline will be spurred, the body will glide freely for several minutes.
Lake Batur in Kintamani, is one of the favorite tourists when on vacation in Bali. Therefore, Kintamani is a tourist spot in Bali that must be visited. Kintamani attractions are located in Bangli Regency. The Kintamani tourist area is very cool, around 21 degrees Celsius during the day.

The main attraction of Kintamani tourist attractions is on the landscape of Lake & Mount Batur and the stretch of the rest of the volcanic eruption, which is surrounded by lakes. Because of the beauty of this natural scenery that makes Kintamani always visited by so many tourists. The main activity of visitors who come to Kintamani tourist attractions, is a photo with a background view of Mount Batur and Lake Batur. In addition, almost along the edge of the cliff is used as a location for taking photos.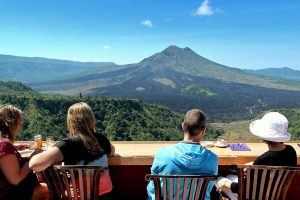 Tibumana Waterfall is a twin waterfall that has 2 streams of water side by side. But when the river water is small, there is only one large stream that falls into a waterfall. Under the waterfall there is a pool of water that is not too deep so it is very comfortable if used for swimming or bathing. The manager has also prepared tires that can be used as buoys.

The object of Tibumana Waterfall is not as extensive, but because of its hidden beauty it becomes like its own. The spot here is very good for photos. Set against a waterfall or standing on a fallen tree trunk, making your photos more beautiful.